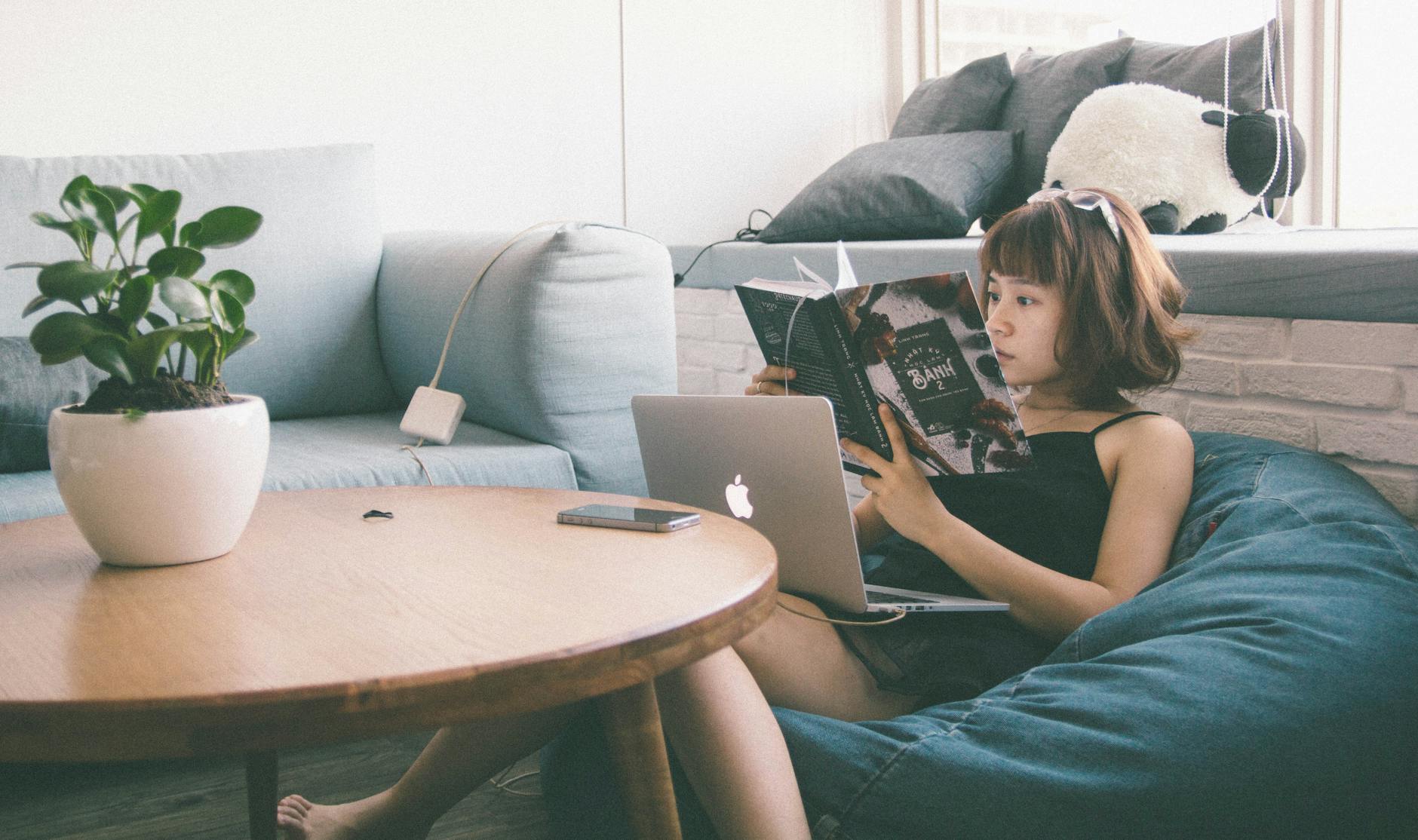 When we first move into any property, we tend to get caught up with trying to make the place look as aesthetically pleasing as possible. We flick through glossy magazines and browse seemingly endless Pinterest boards, modelling our new spaces on pristine ideals. However, it's important to bear in mind at all times that your home is not a show home. It's a space where you're going to actually live. Somewhere that you're going to get ready in the mornings, keep all of your personal belongings, eat, drink, love, laugh, and play. So, while aesthetics and looks are important, you should still prioritise comfort. Now, comfort can apply to a whole array of aspects of your home. From physical comfort to ensuring your privacy, as well as your health and wellbeing! So, let's take a moment to consider a few subtle home additions that will help you to achieve this!
Bean Bags
Chances are that your household already has sufficient seating options for your needs. Seating, after all, is a functional requirement for your day to day life. You probably have a sofa in the main living space, some sort of seating around a dining table, and perhaps a chair at a desk. But if you have some space spare, it's always worth consider investing in bean bags. These are multifunctional items that you can sink into after a long day of work. Because they are light and portable, you can drag them in front of the television to watch your favourite programme or a film. You can pull them up under a reading lamp with your favourite book. You can snack in them. You can nap on them. Whatever you please! Just remember that if you want to lounge on your beanbag in the backyard, you're going to have to invest in outdoor beanbags, which are made of more durable fabrics.
Folding Doors
While doors may not generally be the main attraction of a room, they hold the potential to be an extremely functional property feature that has so much more to offer than simply offering a means of passing from one room to another. Say you live in a shared property… you may feel uncomfortable living on top of other people. A high-quality folding door system can help to give you privacy when multiple people are home – dividing the space up and giving everyone a little space. While these types of doors are generally used for exterior walls, giving people access to a room and the outside world (usually the garden), they can also be placed to open across the centre of a room, breaking up into two independent spaces. If you have a modern home, aluminum sliders and bi-folding frames are the way to go for a sleek finish. However, if you're aiming for a more rustic look, you should favor timber frames.
Houseplants
For the majority of us, nature provides a calming touch to our day to day lives. If you're feeling stressed, overwhelmed, or anxious, little beats letting your hair down and taking a walk outdoors, letting the breeze flow through your hair and the fresh air run through your lungs. So, why not incorporate a little nature into your interior design too? This goes for those of us who live in urban spaces and rural spaces alike! Not only do plants add a dash of color to a room, but they also purify the air, using their leaves and roots to remove trace levels of toxic vapors from sealed and confined spaces. Now, one thing that often puts people off plants around the home is maintaining them. But regardless of your dedication and flexibility, there will always be some sort of plant to suit you and your living space. After all, if a cactus can survive in the desert with irregular and sparse rainfall, it should be able to survive with irregular watering in your home too. One last key point when it comes to indoor plants – remember that not all foliage is suitable for homes with pets. There are a whole variety of plants which can prove toxic or hazardous if consumed by cats, dogs, or other common household pets. So watch out for common toxic plants such as Sago Palms, Tulips, Lilies and Azaleas. For a more extensive list of poisonous plants, refer to specialist guides.
Photographs
We're all bound to feel a little down every now and again. This might have a particular cause, or we might just be going through a melancholy patch. But we can't always just turn to the people we love for immediate support. They might have other responsibilities or live a little too far afield. But you can still surround yourself with their presence in your home! How? Photographs, reminding you of all the good times you've had together and the ones that are bound to come in the future too! Nowadays, we tend to store the majority of our photos are online. We file them in folders on social media for the world to see. But what about good old-fashioned photographic prints? There really is something so authentic about a picture taken on film that you can hold in your own two hands. There are so many different ways to display them in your property once they've been printed too! Whether you want to decorate your walls with some of your favourite shots of your little ones, pets, friends, and family in beautiful frames, or prefer canvas prints. If you're reluctant to mount pictures on your walls, you could always opt for something a little smaller and simpler – free standing frames that can be left on window sills, bookshelves, or desks and worktops.
So, if you feel like your current property has been lacking a little something or you've just been feeling a little uncomfortable in your space, these might be some ideal ways to make the space look a little more like home. They're simple to carry out, so give them a try!